DOWNLOAD 2021 PROGRAM
Mittelfest is coming! Before August 27, discover all the performances and events in our program. Download it here.
Read more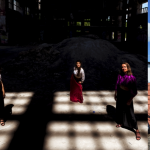 After Mittelyoung: here the 3 shows that will be back for Mittelfest 2021
Mittelyoung is ended, a festival in the festival, for under 30 artists. Considering the great success, now we look to 2022 and to Mittelfest 2021, from August 27th to September 5th: 3 works of this Mittelyoung will be back.
Read more